| | | |
| --- | --- | --- |
| --- | Edgar & Ellen Halloween Costumes | --- |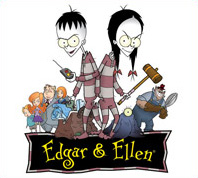 Based on the popular books by Charles Ogden and now a successful cartoon television series, the show centers around Edgar and Ellen, two mischievous twelve-year old twins who live in a thirteen story dilapidated old mansion on the edge of the town Nod's Limbs.
They cause a lot of mischief and mayhem by pulling elaborate pranks, often in the form of booby traps, both on each other and the residents of Nod's Limbs. Unfortunately for them, their pranks often backfire in unpredictable ways.

Edgar


Edgar is a skilled inventor, even if his inventions often go awry. He is also an accomplished escape artist, who idolizes Harry Houdini. Wherever he goes, so does his satchel of full of diabolical gadgets. In most situations he starts out calm and confident, but when things start to go wrong he has a tendency to panic. Edgar can be quite absent minded about some details, which often leads to disaster.
Ellen


Ellen is essentially a mad scientist, particularly when it comes to flora and fauna, and is very affectionate toward her unusual plants. She and Edgar plan and execute their many schemes together. Ellen is very intelligent and can solve problems quickly when the need arises. While more level-headed than her brother, she can also lose her temper very quickly.
Costume Ideas


Both Edgar and Ellen wear identical striped footie pajamas, white and mauve in color. Since there have been no Halloween costumes developed so far, we looked around for a pattern that could be used to create your own. Kwik Sew makes a pattern for making a set of footie pajamas (Pattern #2175). This pattern is designed for stretch knits only. The misses' pajamas have a zipper opening on the front, elastic in casing at the waist and ribbing neckband and cuffs. The next step is to locate fabric that comes close to the large stripes that their pajamas have. Check with your local fabric store.
Makeup Tips


Both Edgar and Ellen have pale white complexions, so for the makeup we choose to use white grease paint to cover all exposed skin on the head, neck and hands. Then use white face powder to set the grease paint. Use a black eyebrow pencil to darken and straighten the eyebrows. You might want to keep a small container of the white grease paint with you Halloween night for touch-ups.

The twins both have jet black hair giving you two options. You can wear a black wig or temporarily dye your hair black. Jerome Russell's Temp'ry Natural Color Highlights "True Black" can be used to cover your current hair color with natural looking results. Jerome Russell uses only the finest ingredients that dry instantly, producing a fabulous color and shine with no damage to the hair.
Accompaniments


Edgar and Ellen's keep a bizarre one-eyed, hairy creature as a pet. During the 2007 Halloween season, Target department stores were selling a "Pet" stuffed animal in their Edgar and Ellen section. This is perfect for a young lady in her Ellen costume to carry with her. For Edgar, a satchel or satchel type over-the-shoulder purse makes a great "lab equipment filled" type Halloween prop.