| | | |
| --- | --- | --- |
| --- | DOCTOR DETROIT AND HIS LADIES | --- |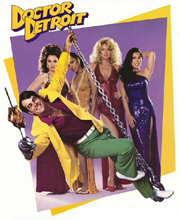 If you've never seen the movie Doctor Detroit you have really missed out on a great comedy! Its the story of a very geeky, but loveable college professor named "Clifford Skridlow", played by Dan Aykroyd. A chance encounter with four beautiful women turns his normally boring life upside-down when he discovers that they are actually high-class call-girls.
The girl's manager is in big trouble with his rival and cons Clifford into becoming a fictitious business partner in an attempt to save himself, and then leaves town. Employing a variety of props and wardrobe from the college's theatrical department, Clifford proceeds to create a flamboyant and seemingly dangerous alter-ego known as "Doctor Detroit", and vows to protect the helpless girls.
Doctor Detroit and his entourage of lovely ladies are wonderful characters for Halloween, and particularly if you are attending an adult Halloween party. The ladies can wear sexy gowns or dance clothes. Below is how we created our Doctor Detroit Halloween costume.
The Wig
As part of his new and unusual identity, Clifford commandeered a wild wig from the wardrobe department at his college. For our wig we chose the closest one we could find.

The Punk Glamour Wig from Ace Wigs is a pre-styled costume wig simulating Rod Stewart's hairstyle, and comes in a wide variety of colors. The color shown is "frosted blond" and is the closest color to the one in the Doctor Detroit movie.

This quality wig retails for around $38.00 and is available from AceWigs.com.
Yellow Sport Coat
What can we say, Doctor Detroit was quite the dresser and yellow colored sports coats are not that easy to find, but we were able to. HugeStore.com carries men's yellow sport coats (#20211). They are a poly-wool blend two button blazer with a vent-in-back.

To complete the ensemble, add a red and black plaid dress shirt, green pants, white belt, white shoes and some gold chains.

Most of these are unusual colors or patterns, so you may have to shop around to find them. Local thrift stores and golf shops are a good source for colorful clothing.

Medieval Gauntlet
On an impulse, Clifford decided to add a metal gauntlet to his wardrobe, but it worked for his Doctor Detroit persona in a crazy way.

We found these reasonably priced replica gauntlets that are made of eighteen gauge steel plates and high quality leather. The lining is made of stitched leather that covers the forearm. These costume gauntlet gloves are fully wearable and are perfect for a Doctor Detroit costume.

These gauntlets will fit most hand sizes and are available from RedSkyTrader.com

Sun Glasses
Lastly, a pair of sunglasses adds the finishing touch to this Halloween costume. Unfortunately, we were unable to identify the original pair of sunglasses that the Doctor wore in the movie, so we decided to go with a pair of gold tone Elvis Presley style costume sunglasses. That's it, your now ready to hit the town as the Doctor himself!
Click here to view several stills from the movie to see his wardrobe.