MAIN CONTENTS

Featured Articles
The latest Halloween articles from the staff of Halloween Online.
Halloween Costumes
Halloween Costumes, Halloween Masks and Makeup ideas.
Halloween Decorations
Halloween decorations you can make or buy for the spookiest night.
Halloween Recipes
Our cookbook filled with Halloween recipes, tasty tricks and treats.
Halloween Games
Spooky Halloween games adaptable for both kid's and adults.
Halloween Party
Halloween Party planning and ideas for your festivities.
Halloween Safety
Safety information, tips and suggestions for a safe Halloween.
101 Halloween Tips
That's right, 101 great Halloween tips, ideas and suggestions!
Halloween Props
Spooky Special Effects and Props for your Halloween haunt.
Pumpkin Carving
Pumpkin carving tips for carving your Halloween Jack O' Lanterns.
Movies & Music
Suggestions for the best Halloween music and Halloween movies.
Halloween Crafts
Halloween craft ideas and instructions for lots of Halloween fun.
High-Tech Halloween
Ghostly gadgets for your computer, cell-phone, Palm Pilot and more!
Clowns can look comical, happy, sad or absolutely frightening. If you've never seen the cult classic "Killer Clowns from Outer Space" movie, you've missed out. Many people are extremely fearful of clowns. Coulrophobia is the technical term for a abnormal fear of clowns. Wearing a scary clown costume on Halloween is a sure way to put some fright into people. Below are just a few of the creepy clown costumes available.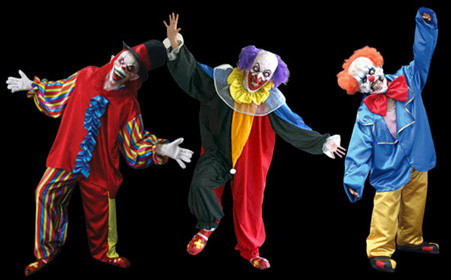 Smiling Clown Costume
Evil bozo clown costume includes a deluxe full overhead latex mask, oversized clown shirt, and pants.
Cranky Clown Costume
An evil fun house clown costume. Includes deluxe full overhead latex clown mask that extends down onto the chest, and has bright red hair, a multi-colored clown shirt, and matching multi-colored pants.
Lust Clown Costume
This twisted bozo costume belongs under the scary circus big top. Comes complete with highly detailed, full overhead latex clown mask that extends down onto the neck and has wacky clown hair, and a deluxe quality, multi-colored clown jumpsuit.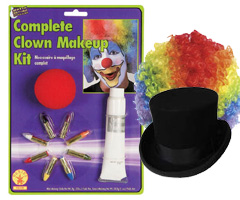 Clown Accessories
Gloves and clown shoes are usually not included in clown costume sets, so be sure to accessorize by adding these items.
Makeup vs. Mask
While there are many clown costumes available, above are a few of our favorites. The three shown all use a mask to portray the horrible visage of an evil clown, but if you don't like wearing a mask you could use Halloween makeup and a crazy wig instead of wearing a Halloween mask. You can add an unusual looking hat to your clown ensemble.
Note - Do not frighten small children as they could become traumatized.