Babies and toddlers can get in on the Halloween costume fun this year with the wide range of costumes from your local Halloween costume store.. There are so many adorable costumes for infants from a Jack-O-Lantern and other veggies to animals and Disney characters. Most of the "bunting" type for infants will not only look cute but function to keep them warm as well.
Toddlers also have a large range of Halloween costumes available to them. If there's a kids cartoon or icon around, there's probably a costume to go along with it. Kids get so hooked on these characters, they'll love dressing up like them! Here's just a few that we've picked as favorites for this Halloween season.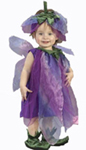 Little girls love to play dress up. Whether it's for Halloween or any day, have a couple cute costumes like a fairy and a princess around the house for your little girl. This girl's sugar plum fairy costume for toddlers is a hit this season! This costume consists of a lavender/purple dress with a lavender/purple tulle overlay, a green velvet collar, soft attached wings, green velvet elf booties and a matching headpiece with green velvet stem. It's great for Halloween, but so perfect for plays, parties, pageants and recitals. It runs around $23.99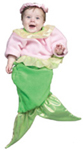 The most practical costume for an infant is a bunting costume. This type keeps the baby warm, doesn't cause them any discomfort because of binding and they sure look darn cute! There are al kinds of bunting style costumes for infants to be found. Here's a cute one for a little girl!
Your baby will be so sweet in this adorable mermaid costume! This costume is a flannel bunting with fish-shaped bottom. It has coordinating headband and is machine washable. It also has a Velcro closure in the back for easy access. It runs around $22.99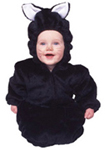 Now your little one can become a cute kitty for Halloween by wearing this comfortable bunting costume. This baby kitty costume is a one piece, velour bunting with a zipper down the front for easy accessibility. It also has an attached hood with character ears. As buntings are, it has a closed bottom for safety and warmth. It runs about $19.99
This would be a great costume for a boy or girl and if mom dresses like a cat, it's a very cute mother and kitten costume!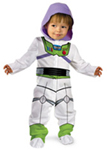 Toddlers love cartoons and Disney favorites so it makes sense to let them dress up for Halloween like their favorite character. Let your little guy become Buzz Lightyear, the galactic leader and brave explorer from Toy Story with this costume! Buzz Lightyear costume consists of a bodysuit with snap front, detachable character hood and booties. It runs about $22.99.

This costume is available in infants and toddler sizes. If you have a toddler, they could dress like Woodie (also available) and your infant dresses as Buzz Lightyear! What a cute combination!