My nephew really wanted to be an astronaut for Halloween, so I began my quest, searching for the best astronaut costume I could find. While there are several cheap Halloween costumes available, none of them looked very good, except for this line of astronaut suits and accessories. They have a complete line of high-quality astronaut costumes in all sizes, from newborn to adult. This is the costume I got for my nephew and he absolutely loves it! After seeing them, we're even thinking of dressing everyone as a "Lost in Space" type family for Halloween!
Astronaut Costumes available at the Costume Super Center!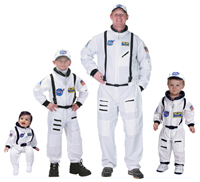 Jr. Astronaut Suit
This top quality astronaut suit is the perfect solution for a top-rate Halloween costume for kids of just about all ages and looks like the real thing. Suit includes official NASA patches and a special commander patch.
Fitted with real chest and waist harness buckles, padded neck collar ring and ankle cuffs with adjustable Velcro Straps for extra realism. Available in children's sizes small, medium and large.
Adult Astronaut Suit
This Official Looking NASA Style Astronaut Suit is a perfect match to the Junior suit and a great looking Halloween costume! Features real chest and waist harness buckles, padded neck collar ring and zippers everywhere. Like the Junior version, it includes real chest and waist harness buckles, a padded neck collar ring. Loaded with lots of zippers. Available in small and large sizes.
Astronaut Helmet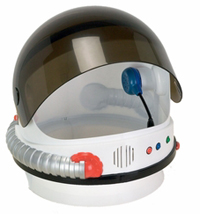 The Jr. Astronaut Helmet is of high quality construction and wonderfully detailed. In fact, it reminds me a of a space helmet I had when I was a kid, although not as realistic. It includes a spring loaded retractable shield, a mock boom microphone and built in sound chip for communicating with mission control and an official-looking NASA logo.
While this helmet is intended for children, many adults can wear it as well. The opening of the helmet is 15 inches in diameter. If you can fit your head through an opening that size, it should fit you. I have to admit that I had to get one of these for myself as well.

Jr. Astronaut Gloves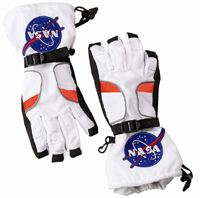 Now its time to talk about accessorizing your astronaut Halloween costume. While just the space suit and helmet look great, adding a pair of space gloves and space boots are the finishing touch to the entire ensemble. The realistic looking children's astronaut gloves are a new addition to the astronaut line and really add to the overall look of the costume.
The gloves include an official NASA patch on each glove, a textured palm for easy grip, adjustable wrist strap and an elastic inner cuff. The gloves are available in child sizes small, medium and large.
Astronaut Space Boots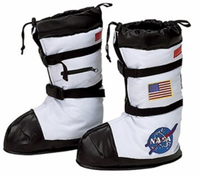 Last, but not least, are the realistic looking astronaut space boots. These over-boots feature a NASA logo patch and American flag patch on each boot, a special zippered compartment on the side and adjustable straps and cuffs.
These replica space boots are intended to be worn over shoes. Adding a pair of these will complete the astronaut costume. They are available in youth small, medium and large, as well as an adult.