| | | |
| --- | --- | --- |
| --- | ALICE IN WONDERLAND COSTUMES | --- |
Alice's Adventures in Wonderland is a delightful book that was written 1865 by English author Charles Lutwidge Dodgson under the pseudonym Lewis Carroll. It tells the story of a young girl named Alice who falls down a rabbit hole and lands in a fantasy world populated by strange creatures and odd people. It's been published in 125 languages and has never been out of print. It is a story loved by children and adults alike. It has also been made into many film versions, both animated and with live actors.
The latest incarnation is that of Tim Burton's Alice In Wonderland, a colorful, fantastical film with great special effects. This HALLOWEEN 2016 season holds a plethora of costumes from the film so the whole family can go dressed as characters from Alice In Wonderland!
---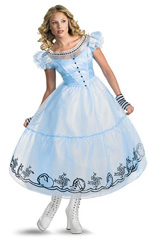 Alice
You're never too old to be filled with wonder and excitement! So fall down the rabbit hole this Halloween in this Women's Adult Alice Costume! It will take you into a new world with whimsical rabbits, crazy party hosts, and queens who just absolutely demand your head be cut off!
This Women's Adult Alice Costume comes with the dress, petticoat and gloves and comes in Women's Small, Medium and Large. You can add a long blonde wig, white tights and shoes. There's also a great selection of Sexy Alice costumes for adults and Alice costumes for girls, tweens and teens as well!
---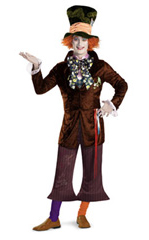 The Mad Hatter
It might be time to have one absolutely mad tea party! When you pull on this officially licensed Disney's Alice in Wonderland Mens Mad Hatter Halloween costume, you'll be in the authentic style of Johnny Depp's character in the blockbuster hit! When you're looking for a bit more for your Mad Hatter, you can't go wrong with this costume!
This costume comes with jacket, faux shirt front with bow tie, pants and hat with attached orange hair. It comes in men's sizes Medium and X-Large. You'll have to add the socks, shoes and makeup yourself. This costume and other Mad Hatter's can also be found for young men and children.
---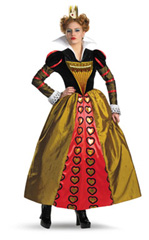 The Queen of Hearts
Off with their heads! As the Red Queen, you'll be saying them with great frequency! This Women's Queen of Hearts (The Red Queen) costume will have you in the style of Helena Bonham Carter's character out of the blockbuster film!
This costume comes with the dress, petticoat, crown and collar. It comes in women's sizes Small, Medium and Large. You'll need to add shoes, a wig and makeup. You'll also find a selection of sexy Red Queen costumes for adults as well as Red Queen costumes for girls, tweens and teens!

---
You'll also find the costumes for Tweedle Dee and Tweedle Dum in men's sizes.