| | | |
| --- | --- | --- |
| --- | Addams Family Costumes - Wednesday | --- |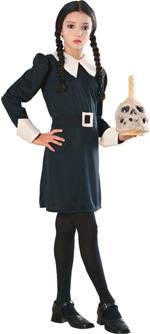 Wednesday Addams
Teenage daughter of Gomez and Morticia, she closely resembles the appearance of her mother when Morticia was young. She has pale skin, although not as pale as her mother and long black hair which she wears in braids.
Sullen, apathetic and having a twisted sense of humor, Wednesday has a fascination with death and the macabre and could be considered quite the Goth girl.
She and her brother Pugsley are playmates and her favorite pastime is torturing him just to hear him scream. Her other hobby is raising pet spiders, black widows in particular.
Wednesday Addams Costume
The "Wednesday Addams Family" costume manufactured by Rubie's Costumes, and comes with a polyester black dress with white collar and cuffs and black belt, just like what Wednesday wore in the New Addams Family TV series. Its available in both child and teen sizes. Don't forget a Wednesday Addams black braided wig.
The Wednesday Addams costume set and other Addams Family costumes are usually available at your local Halloween store during the Halloween season. To complete the costume just add a set of black tights, black shoes and a long black braided wig.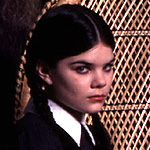 Wednesday Addams Makeup
Wednesday's complexion is in between the pale skin of her mother and the darker features of her father. If you already have a pale complexion you won't need any face makeup, otherwise use pale make-up on the face and neck to lighten slightly. Wednesday also wears rose-red lipstick, not as bright a red as her mother wears. Wednesday has very sinister eyes, so you will want to use an eyebrow pencil to shape and darken the eyebrows. Lastly, darken under the eyes, line eyes with black liner and smudge and put on a thin layer of mascara.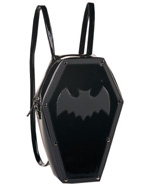 Wednesday Addams Accessories
Her favorite toy is her beheaded Marie Antoinette doll, which she sleeps with. Strangely, the doll's clothes look remarkably like what Wednesday wears.
Wednesday sometimes wears a coffin shaped backpack to school. We found this great black coffin purse at goodgoth.com that has long straps allowing it to be worn as a backpack. It has a bat shaped design and measurements; 9-1/4" x 13-1/2" 3-1/2". This would be great for the holding candy collected on Halloween night.
Wednesday Addams Quotes
"When pushing someone down stairs, don't push too hard, or you might pull a muscle."

"Mass destruction is over so quickly, there's no time to enjoy it."

"When being tortured, its best to take a deep breath before screaming. That way your cries will echo much longer."