| | | |
| --- | --- | --- |
| --- | Addams Family Costumes - Morticia | --- |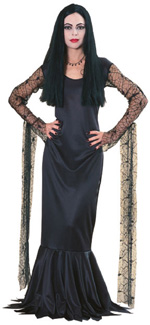 Morticia Addams
Morticia is an elegant, beautiful woman with pale skin and a gothic appearance. Like her mother Eudora, she is a witch. She wears a skin-tight black gown with octopus-like tendrils that circle the bottom.
Devoted wife of Gomez Addams, she enjoys any sort of activity with Gomez, including fencing, chess playing and dancing, usually the tango or a waltz.
Some of her favorite hobbies include painting, sculpting and horticulture. She particularly likes raising roses so she can cut off the buds and keep only the thorny stems. She has raised a large carnivorous plant named Cleopatra, which she takes pleasure in feeding raw meat.

When Morticia is under stress or in deep thought, she sometimes smokes, but not cigarettes. Smoke, somehow, mysteriously emanates from her body. Her favorite color is, of course, black.
Morticia Addams Costume
This year, why not be Morticia, seductive wife of Gomez Addams. The "Morticia Addams Family" costume manufactured by Rubie's Costumes, comes with a long black polyester dress with spider tulle long sleeves and hanging spider tulling, just like the one Morticia wears in the New Addams Family TV series. Just add a long black wig to finish it off.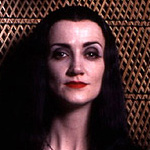 Morticia Addams Makeup
Morticia's skin tone varied between episodes from a pale white to an ashen gray. We'd choose to use a pale white on face, neck and hands. Her lips are a bright, blood red color. For her eyes use a smoky black on the lids, heavy black eye liner and lots of mascara.
The nail polish on her long, claw-like nails varies between black, blood red and deep black-purple. You can buy pre colored, claw like glue on nails during Halloween season or have a set of acrylics put on for the occasion.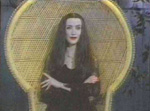 Morticia Addams Accessories
Signature chair - Morticia is often seen sitting in a rattan peacock chair, like a queen of the family on her dilapidated throne. If you can find one, this makes a great presentation for Halloween. Rattan peacock chairs are still made, but can be difficult to locate and because of there size are usually not shippable. Try a local import store.
Morticia Addams Quotes
"I'll be back after I put on something a little more uncomfortable" - Morticia to Gomez

"The more, the scarier!"

"A happy child is just an unhappy child whose having fun."

"Oh, Gomez, I love it when you take an irrational stance against overwhelming odds with no hope of success."

"Look on the dark side"

"Dynamite is a girls best friend."