MAIN CONTENTS

Featured Articles
The latest Halloween articles from the staff of Halloween Online.
Halloween Costumes
Halloween Costumes, Halloween Masks and Makeup ideas.
Halloween Decorations
Halloween decorations you can make or buy for the spookiest night.
Halloween Recipes
Our cookbook filled with Halloween recipes, tasty tricks and treats.
Halloween Games
Spooky Halloween games adaptable for both kid's and adults.
Halloween Party
Halloween Party planning and ideas for your festivities.
Halloween Safety
Safety information, tips and suggestions for a safe Halloween.
101 Halloween Tips
That's right, 101 great Halloween tips, ideas and suggestions!
Halloween Props
Spooky Special Effects and Props for your Halloween haunt.
Pumpkin Carving
Pumpkin carving tips for carving your Halloween Jack O' Lanterns.
Movies & Music
Suggestions for the best Halloween music and Halloween movies.
Halloween Crafts
Halloween craft ideas and instructions for lots of Halloween fun.
High-Tech Halloween
Ghostly gadgets for your computer, cell-phone, Palm Pilot and more!
| | | |
| --- | --- | --- |
| --- | Addams Family Costumes - Grandmama | --- |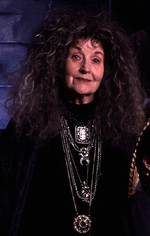 Eudora "Grandmama" Addams
Gomez and Fester's Mother. Eudora is a full time witch and is licensed through the Department of Witchcraft. While her spells, potions and hexes don't always work out very well, she does try her best. She loves her family very much and tries to help them out with advise and sorcery at every opportunity. She does most of the cooking for the family.
Grandmama Addams Makeup
Use a pale gray-white on face and neck, blood red lip color, heavy black eye liner and lots of mascara. Black fingernail polish. Also, Grandmama Addams is quite old, so you may want to draw on some "wrinkles" using a gray or black eye liner pencil. Just make a big smile and draw into every crease your face makes then blend in with a cosmetic sponge.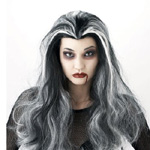 Eudora's hair is always very wild and frizzy looking, so if you don't already have long hair, you'll need to buy a long wig. The "Black and White Vampire" wig pictured to the right is a typical Halloween wig available at Halloween stores and works well for Grandmama Addams hair. You will want to curl the wig with tight curlers just like you would with real hair, then carefully frizz it out with a hair pick and brush until you get the desired style. Lastly, you will want to spray it down with enough hair spray to hold it in place for Halloween night.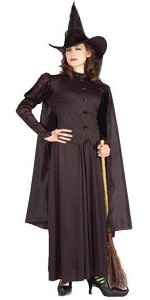 Grandmama Addams Costume
While there's no actual "Grandmama Addams" costume, and never has been to our knowledge, the "Classic Witch Costume" works quite well.
The "Classic Witch" costume set includes a black pointy witch hat with attached scarf, a cape and a form-fitting, button up top with a long skirt. The "Classic Witch Costume" costume set and other Addams Family costumes are available at your local costume store.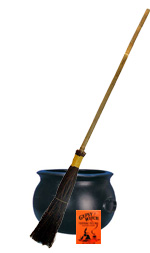 Grandmama Addams is well known for wearing a shawl, so you will definitely want to add either a black, gray or dark purple colored one to your Halloween costume set. An assortment of large, gaudy necklaces will finish off the ensemble. Local thrift stores are a great place to find shawl's and cheap costume jewelry. You might want to check out a local Halloween store for a bat, pentagram and other Goth type necklaces.
Grandmama Addams Accessories
A large witches cauldron is the perfect accoutrement for her. Plastic ones can be bought in mass retailers and Halloween shops during the Halloween season. Or, if at a Halloween party she's the best person to serve the punch from a spooky Halloween punch bowl. A witches broom and a deck of fortune telling cards, such as the "Gypsy Witch" cards add a nice touch.
Grandmama Addams Quotes
"A mother knows her son's skull better than anyone."