MAIN CONTENTS

Featured Articles
The latest Halloween articles from the staff of Halloween Online.
Halloween Costumes
Halloween Costumes, Halloween Masks and Makeup ideas.
Halloween Decorations
Halloween decorations you can make or buy for the spookiest night.
Halloween Recipes
Our cookbook filled with Halloween recipes, tasty tricks and treats.
Halloween Games
Spooky Halloween games adaptable for both kid's and adults.
Halloween Party
Halloween Party planning and ideas for your festivities.
Halloween Safety
Safety information, tips and suggestions for a safe Halloween.
101 Halloween Tips
That's right, 101 great Halloween tips, ideas and suggestions!
Halloween Props
Spooky Special Effects and Props for your Halloween haunt.
Pumpkin Carving
Pumpkin carving tips for carving your Halloween Jack O' Lanterns.
Movies & Music
Suggestions for the best Halloween music and Halloween movies.
Halloween Crafts
Halloween craft ideas and instructions for lots of Halloween fun.
High-Tech Halloween
Ghostly gadgets for your computer, cell-phone, Palm Pilot and more!
| | | |
| --- | --- | --- |
| --- | Addams Family Costumes - Lurch | --- |

Lurch
The extremely devoted family butler, Lurch is also considered to be one of the family. Like the Frankenstein monster, it is believed that Lurch was created out of spare body parts from the Addams ancestral graveyard, which his somewhat gruesome appearance supports. He is very tall and lumbering, yet somehow arrives at his destination promptly.
When a family member summons him via an ever-present bell pull (in the form of a hangman's noose), Lurch appears immediately and answers in a deep, resounding voice, "You rang?
Lurch is also known for playing the harpsichord or pipe organ to entertain the family. His best friend and buddy is Thing.
Lurch Costume
While there's no actual "Lurch" costume, and never has been to our knowledge, the "Ghost in the Attic Groom" costume works well. This costume covers your corpse in an elegant ensemble of tuxedo jacket, pants, top hat, shirt, vest, and bow tie. Just lose the top hat and gloves, Lurch never wears them. The "Ghost in the Attic Groom" costume set and Addams Family costumes are available at your local Halloween costume store.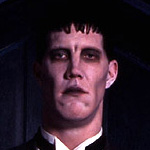 Lurch Makeup
For the makeup use a very light gray grease paint by mixing a dab of black to white grease paint and cover all exposed skin on the head, neck and hands. Lightly darken the eye sockets with a very small amount of black makeup on the tip of your finger, use this on the lips as well.
We suggest that you keep a small container of the gray grease paint with you Halloween night for touch-ups. Use styling gel and comb the hair down over the forehead for that classic Frankenstein's monster look.
Lurch Quotes
The most common words you will hear Lurch speak in his very deep voice are:
"You Rang"

"Follow Me"

"Mail's In"

"Yes, Mrs. Addams"

"Ughhhh"