| | | |
| --- | --- | --- |
| --- | Addams Family Costumes - Cousin Itt | --- |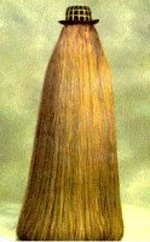 Cousin Itt
The odd and enigmatic cousin of Gomez and Fester Addams. He is a three foot tall mass of straight hair from head to toe. His hair color in the New Addams Family is a shade of honey-blonde. He wears dark sunglasses, a derby hat and gloves.
Cousin Itt speaks a high-pitched gibberish which is understood by all the family members, but rarely anyone else. He is a confirmed bachelor, loves to party and known for his many female companions.
Since Cousin Itt stands only about three feet tall, we recommend this as a Halloween costume for a child or short adult.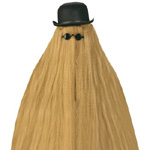 Cousin Itt Costume
Unfortunately, no one makes a full length Cousin Itt costume. The only one you will find for sale as a Halloween costume has fake hair that is only about twenty inches long. This costume, shown to the right, includes a black bowler style hat, that the hair is attached to. The sunglasses are not included with the costume. The Cousin Itt costume set and other Addams Family costumes are available at your local Halloween store during October. Just add black clothing, gloves and sunglasses to complete this Halloween costume.
Caution - This costume can be difficult to see through, so caution should be used when walking. Anyone wearing this costume should have someone with them at all times!
Cousin Itt Accessories
Since it can be difficult to see through all that hair, we suggest that you carefully tape or glue the fake hair that would be in front of your eye to the edges of the sunglasses, allowing your to see through the sunglasses. We also suggest using larger sunglasses than those shown in the costume picture to give you a wider field of vision.
For making your own Cousin Itt costume we suggest sewing together a net sack that would fit the body. Cut holes for the hands to go through. You'd need to buy a large amount of straight hair extension panels and hot glue them in layers around the net sack. This could be very costly unless you know someone in the hair styling business that might be able to order the amount of hair extension panels that you would need. You would also need to add the hat and sunglasses and black glove for your hands. All in all, it's probably more cost effective to buy the costume if you can find it.
Cousin Itt Quotes:
Well, since we can't understand him, we couldn't come up with any good quotes!