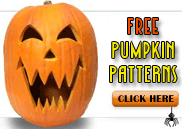 MAIN CONTENTS

Featured Articles
The latest Halloween articles from the staff of Halloween Online.
Halloween Costumes
Halloween Costumes, Halloween Masks and Makeup ideas.
Halloween Decorations
Halloween decorations you can make or buy for the spookiest night.
Halloween Recipes
Our cookbook filled with Halloween recipes, tasty tricks and treats.
Halloween Games
Spooky Halloween games adaptable for both kid's and adults.
Halloween Party
Halloween Party planning and ideas for your festivities.
Halloween Safety
Safety information, tips and suggestions for a safe Halloween.
101 Halloween Tips
That's right, 101 great Halloween tips, ideas and suggestions!
Halloween Props
Spooky Special Effects and Props for your Halloween haunt.
Pumpkin Carving
Pumpkin carving tips for carving your Halloween Jack O' Lanterns.
Movies & Music
Suggestions for the best Halloween music and Halloween movies.
Halloween Crafts
Halloween craft ideas and instructions for lots of Halloween fun.
High-Tech Halloween
Ghostly gadgets for your computer, cell-phone, Palm Pilot and more!
Pumpkin Growing Contest
Though world records for giant pumpkins date back to 1900, they didn't surpass a thousand pounds until 1996. Below are current and previous years record holders.
October 2016 - 2,145 Pounds!
Talk about a ton of Halloween fun! Biggest pumpkin weighing in at over 2000 pounds crushes North American record This years largest and heaviest pumpkin weighed in at an incredible 2,145.5 pounds and has toppled the North American record at this years Wisconsin festival. The giant pumpkin was grown by Gene McMullen from Illinois.
The previous record was 2,058 pounds. Despite the major achievement, McMullen remained humble about his prize-winning pumpkin. "I don't do anything different than any other growers do," he told the Associated Press, crediting "dumb luck" to this giant's success story. At last years event, McMullen's entry came in at a modest 1,600 pounds.
October 2014 - 2,096 Pounds
Mainz, Germany - A Swiss gardener has grown the world's heaviest pumpkin, and it weighs almost as much as a small car. Beni Meier, 30, had to use a special vehicle to transport the fruit, which tipped the scales at 2,096.6 lbs. An official from the Great Pumpkin Commonwealth association was at the weighing, which broke a world record previously held by California couple Tim and Susan Mathison.
"We were told that lots of watering and daily care was necessary," said Maika Ziehl, a spokeswoman for the farm where the competition was held. The pumpkin will remain on display in Klaistow, Germany, until it is "slaughtered" on November 2. "We will probably make a good soup out of the pumpkin," added Ziehl, who said that its seeds would be in high demand and probably auctioned off.
October 2013 - 2,032 Pounds
We were pretty impressed last year when Ron Wallace of Rhode Island grew a pumpkin weighing an astounding 2,009 pounds. But little did we know, this year would bring a new champ for the title of world's largest pumpkin.

According to a press release by the New York Botanical Garden, Tim and Susan Mathison from California have grown a squash that weighs 2,032 pounds! It took the Mathinsons 105 days for this baby to blossom into its extreme size. This giant pumpkinwill be on display from October 19 through October 31 at the New York Botanical Garden.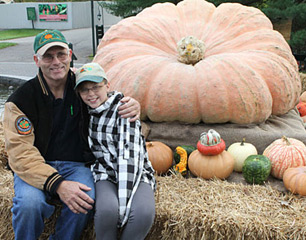 October 2011 - 1818 pounds
World record set by Jim Bryson
Location: Quebec, Canada
Congratulations to Jim Bryson and his twelve year-old daughter, Kelsey, showing off their world-record pumpkin weighing in at an incredible 1,818 pounds. Weighing nearly a ton, this is the largest pumpkin ever grown.
Bryson, who only started growing pumpkins four years ago, say's that he never thought he had a chance at setting a world record.
October 2010 - 1,810.5 pounds
World record set by Chris Stevens
New Richmond, Wisconsin

Chris Stevens of New Richmond, Wisconsin has grown a massive pumpkin that tips the scales at 1,810.5 pounds, setting the 2011 world record for the worlds largest pumpkin.

Seen here displayed at

October 2009 - 1,725 pounds
World record set by Christy Harp
Jackson Township, Ohio

The 2009 world record breaker was Christy Harp with a 1,725 pound pumpkin. The new world record beat it by a whopping 85 pounds!

Christy Harp brought a 1,725 pound pumpkin to the Ohio Valley Giant Pumpkin Growers Giant Pumpkin Weigh-Off on October 3, 2009.

October 2007 - 1689 pounds
World record set by Joe Jutras
North Scituate, Rhode Island

Joe Jutras from North Scituate, Rhode Island, brought in a 1689 pound pumpkin.

His new world record beat the previous world record by 187 pounds. Last year's world record holder was Ron Wallace with a 1502 pound pumpkin.

October 2006 - 1,502 pounds
World record set by Ron Wallace
Greene, Rhode Island

In what has become an annual event, the world record has fallen once more. And, the 1,500 pound barrier was broken. The largest pumpkin ever grown is 1,502 pounds. It was grown by Ron Wallace of Greene, Rhode Island. It was weighed in on October 7, 2006 at the Rhode Island Weigh-off.


How happy is a pumpkin grower when he is told that he has produced the largest pumpkin ever grown? Here is Ron's reaction.....

October 2005 - 1469 pounds
World record set by Larry Checkon
North Cambria, Pennsylvania

Pictured above, is the 2005 world record pumpkin. It weighed in at 1,469 pounds. It was grown by Larry Checkon of North Cambria, Pennsylvania.

It was weighed in on October 1, 2005 at the Pennsylvania Giant Pumpkin Growers Weighoff.

October 2004 - 1446 pounds
World record set by Al Eaton
Port Elgin, Canada

World Record Giant Pumpkin - Fall, 2004
Picture compliments of Dave McCallum
Pictured above is the 2004 world record pumpkin. Al Eaton grew this 1446 pound pumpkin.

After growers optimistically tried for years to break the 1,000 pound barrier, the barrier fell twice in the same year. That year was 1994. Each year since then, the record has fallen to an even larger pumpkin.