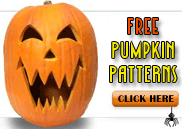 MAIN CONTENTS

Featured Articles
The latest Halloween articles from the staff of Halloween Online.
Halloween Costumes
Halloween Costumes, Halloween Masks and Makeup ideas.
Halloween Decorations
Halloween decorations you can make or buy for the spookiest night.
Halloween Recipes
Our cookbook filled with Halloween recipes, tasty tricks and treats.
Halloween Games
Spooky Halloween games adaptable for both kid's and adults.
Halloween Party
Halloween Party planning and ideas for your festivities.
Halloween Safety
Safety information, tips and suggestions for a safe Halloween.
101 Halloween Tips
That's right, 101 great Halloween tips, ideas and suggestions!
Halloween Props
Spooky Special Effects and Props for your Halloween haunt.
Pumpkin Carving
Pumpkin carving tips for carving your Halloween Jack O' Lanterns.
Movies & Music
Suggestions for the best Halloween music and Halloween movies.
Halloween Crafts
Halloween craft ideas and instructions for lots of Halloween fun.
High-Tech Halloween
Ghostly gadgets for your computer, cell-phone, Palm Pilot and more!
Without a doubt the most recognizable symbol of Halloween is a pumpkin carved into a jack-o-lantern. To understand the origins of how pumpkin carving began and what it really means we must first take a look at the holiday itself. How long has Halloween been around? Have there always been pumpkins carved? Here are some answers!
For most of the general population this holiday is known as Halloween and is a night for dressing up, telling ghost stories, having spooky parties, trick-or-treating and pumpkin carving. What most people don't know is that Halloween is actually based on an ancient Celtic holiday known as Samhain (pronounced "sow wan"), which means "summer's end".
It was the end of the Celtic year, starting at sundown on October 31st and going through to sundown November 1st. It was a night to honor loved ones that had passed on since the veil between their realm and ours is at it's thinnest on that night.
Celebrated for centuries by the Celts of old, Witches and many other nature based religions, it is the most magical night of the year. It is the Witches' New Year, and the Last Harvest. Although the religious significance of it has passed for the general public, Halloween is a "magical" night for all!
On this magical night, glowing jack-o-lanterns, carved from turnips or gourds, were set on porches and in windows to welcome deceased loved ones, but also to act as protection against malevolent spirits. Burning lumps of coal were used inside as a source of light, later to be replaced by candles.
When European settlers, particularly the Irish, arrived in American they found the native pumpkin to be larger and easier to carve, it seemed the perfect choice for the jack-o-lanterns. Halloween didn't really catch on big in this country until the late 1800's and has been celebrated in so many ways ever since!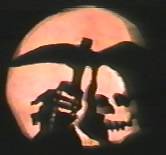 Pumpkins are indigenous to the western hemisphere and were completely unknown in Europe before the time of Columbus. In 1584, the French explorer Jacques Cartier reported from the St. Lawrence region that he had found "gros melons", which was translated into English as "ponpions," or pumpkins. In fact, pumpkins have been grown in America for over 5,000 years. Native Americans called pumpkins "isquotersquash."
Did you know that pumpkins are not a vegetable - they are considered a fruit! Pumpkins, like gourds, and other varieties of squash are all members of the Cucurbitacae family, which also includes cucumbers, gherkins, and melons.

The Legend of Jack-O'-Lantern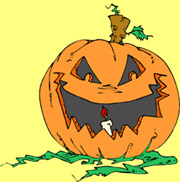 In Irish lore, Jack was a stingy drunkard, who tricked the Devil into climbing an apple tree for a juicy apple and then quickly cut the sign of the cross into the tree trunk, preventing the Devil from coming down.
Jack made the Devil swear that he wouldn't come after his soul in any way. The Devil promised. However, this did not prevent Jack from dying. When he arrived at the gates of heaven, he was turned away because he was a stingy, mean drunk.
Desperate for a resting place, he went to the Devil. The Devil, true to his word, turned him away. "But where can I go?" pleaded Jack. "Back where you came from," said the Devil. The night was dark and the way was long, and the Devil tossed him a lighted coal from the fire of Hell.
Jack, who was eating a turnip at the time, placed the coal inside and used it to light his way. Since that day, he has traveled the world over with his Jack-O'-Lantern in search of a place to rest. Irish children carved out turnips and potatoes to light the night on Halloween.