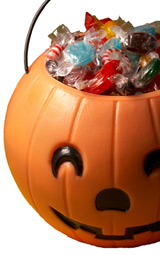 How to maximize your candy gathering potential
I remember as a kid that there were not a lot of other children in my neighborhood and while most of our neighbors did hand out candy to the few costume clad denizens that knocked on their doors on Halloween night, there simply were not that many family homes in our area, meaning a short-fall of candy for us!
This simply would not do, and not to deny ourselves that one big sweet haul on this one special night of the year, we began to travel outside our own neighborhood in search of better hunting grounds.
After our family handed out candy to the small contingent of children that lived in our vicinity, and we had collected all the treats available on our street, my parents would load the whole clan into the car and we would drive to what we knew to be treat richer neighborhoods.
Over the years we knew which streets held the largest sugar coated bounties and would return to them every year religiously. While there are other reasons behind the displaying of a Jack O' Lantern, to a kid, its a blazing symbol stating "Candy Available Here...Come and Get It!"
I remember getting a local street map of our small town and surrounding areas, yes a paper map of old. We'd place circles and squares around the areas to be targeted for candy extraction that we should invade on Halloween night, not that I didn't have them all memorized, but having a map as part of our Halloween battle plan seemed much more organized. Hey, I'm a list maker, I loved making lists even as a kid so this was all thoroughly planned out down to the very last house.
My brothers and I would meet late at night in my room and plan our attack, which areas to hit first, which houses had the best treats, which ones were last on the list because they just didn't give out the biggest pieces of candy.
Today, with the advent of computers, the Internet and online maps, we can take our candy scouting plans high-tech, identifying and printing out critical information including a "Prime Candy Locations" street map. Now days, many businesses hand out candy, so be sure to add them to your scheduled stops.
Be sure to take notes every year and re-do your map to keep it up to date. In these bad economic time, people may move so a place that was a good house last year may be empty this year. Keeping a map of prime candy locations is a fun way for your kids to plan for the best Halloween haul and it also let's the parents know where the kids will be if they are old enough to go out Trick-or-Treating on their own.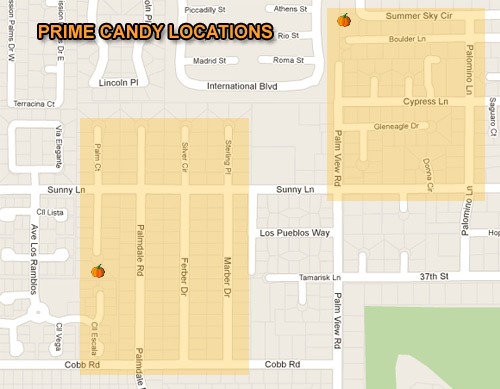 Here's an example of a "Prime Location Candy Map", you can see the best areas blocked out in orange. You could even go so far as to mark particular streets and houses. Make a game out of it, this is all done in fun! Some people have said "But that teaches our kids to be greedy." Well, we don't see it that way.
In these Urban - Suburban cities that so many live in, it's hard to find areas for kids to go trick or treating. Malls hold "Safe Trick or Treating", as do churches and strip malls. Unless you live in the Midwest or a small town, your kids will miss the fun of door to door trick or treating. This is just a fun way to mark areas, like a treasure hunt, for your kids on Halloween night.