MAIN CONTENTS

Featured Articles
The latest Halloween articles from the staff of Halloween Online.
Halloween Costumes
Halloween Costumes, Halloween Masks and Makeup ideas.
Halloween Decorations
Halloween decorations you can make or buy for the spookiest night.
Halloween Recipes
Our cookbook filled with Halloween recipes, tasty tricks and treats.
Halloween Games
Spooky Halloween games adaptable for both kid's and adults.
Halloween Party
Halloween Party planning and ideas for your festivities.
Halloween Safety
Safety information, tips and suggestions for a safe Halloween.
101 Halloween Tips
That's right, 101 great Halloween tips, ideas and suggestions!
Halloween Props
Spooky Special Effects and Props for your Halloween haunt.
Pumpkin Carving
Pumpkin carving tips for carving your Halloween Jack O' Lanterns.
Movies & Music
Suggestions for the best Halloween music and Halloween movies.
Halloween Crafts
Halloween craft ideas and instructions for lots of Halloween fun.
High-Tech Halloween
Ghostly gadgets for your computer, cell-phone, Palm Pilot and more!
Haunted Happenings - Salem, Massachusetts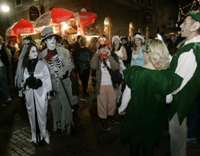 Nobody celebrates Halloween quite like Salem, Massachusetts. Whether you are seeking the changing leaves and cooler weather the New England Autumn brings or the ghosts and goblins that Halloween is known for, you will find it all in Salem during October. There are just too many events that take place in Salem around Halloween to list them all, but below are a few to whet your appetite for some astounding Halloween fun!
Haunted Happenings Grand Parade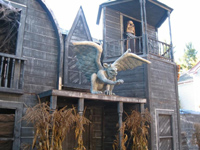 The annual "Haunted Happenings Grand Parade" is a Salem tradition that brings out the entire city and all of the surrounding communities to kick off the Haunted Happenings Halloween season. It is an event filled with pageantry, music and the enthusiasm of thousands of Salem's students from Kindergarten to college. Check out the official Salem Haunted Happenings website for more information on this and other events.
The Annual Psychic Fair & Witchcraft Expo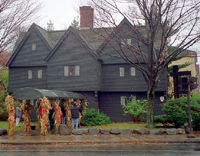 Gaze into the future with a psychic reading or make contact with the Spirit World at Salem's longest-running psychic fair! For nearly twenty years, the Annual Psychic Fair and Witchcraft Expo has been Salem's must-see October event. Peruse magical gifts, meet and speak with real practicing Witches, make your own magic wand, or you can even make an appointment with one of Salem's talented psychic readers and see what the future has in store for you!
The Vampire's Masquerade Ball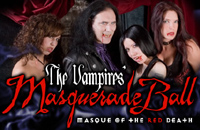 Indulge in an evening of erotic fear and morbid lust at the Vampires' Masquerade Ball in Salem, Massachusetts. Join New England's undead royalty as they ravenously descend on the city and summon all Vampires to attend to their thirst for blood. Long hidden within the shadowy lairs of unholy societies, the Vampire Court has risen again to enfold new victims in their cold embrace.
The Official Salem Witches Halloween Ball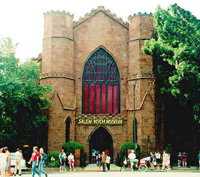 Join the Witches of Salem for a night of magical revelry at one of America's top Halloween parties! Join them as in days of old when fires burned on every hilltop and Witches gathered to feast, rejoice, and cast spells for their new year! Each October, the chill winds of Autumn whisper to Witches and welcome strangers alike who journey to Salem from around the globe to summon the spirits of the dead who wander among us at Samhain (pronounced sow-wain) - the ancient name for Halloween. From time out of mind, Witches have used this sacred holiday to honor the dead, divine hidden secrets, and celebrate magic!
Visit the Official Salem Haunted Happenings website for more information on these and other events going on during the month of October.
When visiting or investigating any spooky place be sure to obey all local laws and always respect the privacy of land owners and residents. Always get advance permission to enter private property. Never trespass on, take anything from or damage anyone's private property. Always show respect!