MAIN CONTENTS

Featured Articles
The latest Halloween articles from the staff of Halloween Online.
Halloween Costumes
Halloween Costumes, Halloween Masks and Makeup ideas.
Halloween Decorations
Halloween decorations you can make or buy for the spookiest night.
Halloween Recipes
Our cookbook filled with Halloween recipes, tasty tricks and treats.
Halloween Games
Spooky Halloween games adaptable for both kid's and adults.
Halloween Party
Halloween Party planning and ideas for your festivities.
Halloween Safety
Safety information, tips and suggestions for a safe Halloween.
101 Halloween Tips
That's right, 101 great Halloween tips, ideas and suggestions!
Halloween Props
Spooky Special Effects and Props for your Halloween haunt.
Pumpkin Carving
Pumpkin carving tips for carving your Halloween Jack O' Lanterns.
Movies & Music
Suggestions for the best Halloween music and Halloween movies.
Halloween Crafts
Halloween craft ideas and instructions for lots of Halloween fun.
High-Tech Halloween
Ghostly gadgets for your computer, cell-phone, Palm Pilot and more!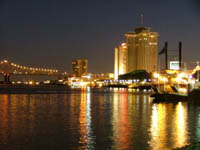 New Orleans - Louisiana
New Orleans is one of the oldest cities in the United States. French fur trappers and explorers started using the area as a settlement and port around 1690's. There is a long, rich history in this area. And, of course, when you have a city with that much history, including pirating, black market traders, the Colonial Era, civil war and the like, you end up with a very haunted history!
New Orleans has an ambiance around it year round, so much history can be found there. It's history is rich in Voodoo, French culture, Cajun cooking, music and of course, it has some of the best cemeteries in the country. What better place to spend Halloween than in a city that must be so full of ghosts, if you could see them, they would literally block the streets.
The Cemeteries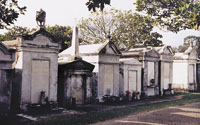 With it's long history, you also have plague victims, civil war soldiers and many other catastrophes that have lent themselves to needing a large amount of burial space. Since New Orleans is mostly below sea level, the need for burying bodies above ground became clear. Some of the more famous cemeteries to see here are Lafayette Cemeteries #1 & #2, Metairie Cemetery, St. Louis Cemeteries #1 (resting place of Marie Laveau the Voodoo Queen), #2, and #3. Please be aware that night time is not a safe time to be in any of the cemeteries unless you are with a tour.

Halloween in New Orleans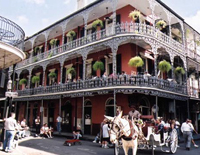 Halloween is considered "The Second Mardi Gras" by many. There are so many things to do, parties, balls, things to see and explore, that you'll need a week to do them all in! You can take an official haunted tour of the city. Many of the old home tours add a haunted touch to their exhibits during October as well. You can take in some of the many haunted attractions set of for Halloween, like The House of Shock, The Mortuary and The Scream Factory.
Be sure and attend the annual Ghost Gallivant! It has actors portraying people like Marie Laveau, a trip into the St. Louis #2 Cemetery at night and much more! The City Park Botanical Gardens usually adds something spooky like 2007's Scarecrow theme. There's the Haunted Riverfront's safe trick or treating for kids and the Voodoo Music Experience, which has drawn acts like Rage Against the Machine and Smashing Pumpkins in the past, for the adults to attend.
Any time of year is a great time to go to New Orleans! The Haunted History tours run all year. You won't run out of things to see and do in Haunted New Orleans!
When visiting or investigating any spooky place be sure to obey all local laws and always respect the privacy of land owners and residents. Always get advance permission to enter private property. Never trespass on, take anything from or damage anyone's private property. Always show respect!