MAIN CONTENTS

Featured Articles
The latest Halloween articles from the staff of Halloween Online.
Halloween Costumes
Halloween Costumes, Halloween Masks and Makeup ideas.
Halloween Decorations
Halloween decorations you can make or buy for the spookiest night.
Halloween Recipes
Our cookbook filled with Halloween recipes, tasty tricks and treats.
Halloween Games
Spooky Halloween games adaptable for both kid's and adults.
Halloween Party
Halloween Party planning and ideas for your festivities.
Halloween Safety
Safety information, tips and suggestions for a safe Halloween.
101 Halloween Tips
That's right, 101 great Halloween tips, ideas and suggestions!
Halloween Props
Spooky Special Effects and Props for your Halloween haunt.
Pumpkin Carving
Pumpkin carving tips for carving your Halloween Jack O' Lanterns.
Movies & Music
Suggestions for the best Halloween music and Halloween movies.
Halloween Crafts
Halloween craft ideas and instructions for lots of Halloween fun.
High-Tech Halloween
Ghostly gadgets for your computer, cell-phone, Palm Pilot and more!
"Deadweird" aka Deadwood, South Dakota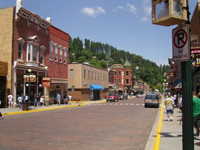 It may be a small community, but the residents of this historic old west town go all out when it comes to celebrating Halloween. What started out as "Deadweird" about fourteen years ago as a holiday program at the local school has now grown to become a night of outlandish and interesting Halloween sights and sounds after the casinos began holding a variety of Halloween events including Halloween costume contests for the best dressed.
As of 2013, they now hold a "Zombiewood" Walk as well.
A Haunting in Deadwood - Spook House
A haunted attraction is held above the Wild West Casino on Main Street. It's not recommended for children younger than age thirteen. Check with them for details.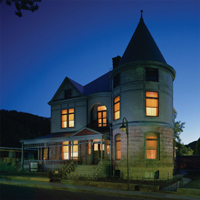 Spirited Tours
Located at the Historic "Adams House" in Deadwood, visitors will learn rare, unusual and controversial facts behind Deadwood's haunted mansion on this enchanting guided tour. The Black Hills Storytellers regale you with stories of thrills and chills at the Tales of Halloween event. This is recommended for adults and teens sixteen years and older. On Halloween night everyone is invited to dress up in their Halloween costumes and join them for some old fashioned trick or treating at the Adams House.
Kidweird
This event featured a Halloween haunted house suitable for the kids and includes lots of spooky games, trick-or-treating, candy check and of course a Halloween costume contest.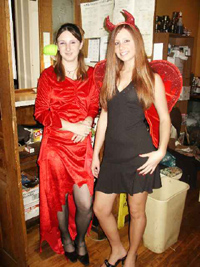 Deadweird Halloween Costume Contest
Residents and visitors alike are invited to don their favorite Halloween costume for a night of spooky fun and games, but also for chance to win big! The Halloween costume judging is usually held between 6 p.m. to 9 p.m. followed by prizes being awarded at 10 p.m., at the Silverado Franklin Historic Hotel & Gaming complex in Deadwood. Halloween 2007 prize money included $1,000 for first place, $500 for second place and $250 for third place. Not bad for having fun and dressing up!
Pumpkin Carving Contest
Held at the Historic Homestake Opera House, pumpkins will be placed along Main Street to be judged, with prizes awarded at 8 p.m. The next day, participants may bring their pumpkins to Siever Street for the annual pumpkin-smashing party.
Note - The above information was for Halloween in 2007. For a current list of scheduled events go to www.deadwood.org.
When visiting or investigating any spooky place be sure to obey all local laws and always respect the privacy of land owners and residents. Always get advance permission to enter private property. Never trespass on, take anything from or damage anyone's private property. Always show respect!