Cassadaga, Florida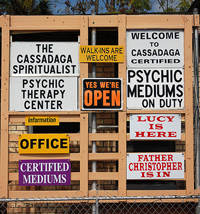 We had never heard of Cassadaga until one night when we were watching "The Harbingers" episode of the TV show FreakyLinks. With a little research we actually discovered a lot about this real and unusual community.
The Cassadaga Spiritualist Camp is a community of spiritually-minded people located in the Orlando/Daytona Beach area of central Florida formed in 1895.
About twenty-five of the residents are mediums who offer spiritual counseling from their homes. Designated a Historic District on the National Register Of Historic Places in 1991, it is the oldest active religious community in the Southeastern United States.
Halloween in Cassadaga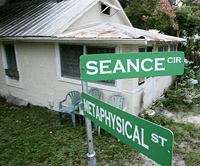 What better place to spend Halloween than in a haunted town? For over a decade, Cassadaga was closed to the public on Halloween, but now welcomes everyone. All ages are invited to dare to journey beyond the gates of Cassadaga and experience the "Haunted Walk".
The Haunted Walk begins at the entrance of the town with ghoulish escorts guiding you through a paranormal maze of shadowy streets, shocking surprises and dark, sinister lanes, ending at the renowned House on Haunted Hill.

Annual Boy Scouts Haunted House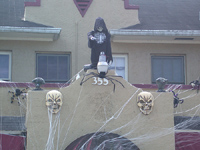 Boy Scout Troop #590 puts on a Halloween Haunted House including spirits from both the past and present! You're invited for a night of frightfully good family fun at the Annual Haunted House.
The haunted grounds are located just west of Lake Helen-Osteen Road (aka Prevatt Rd), and just east of Pleasant Street in Lake Helen, very near Cassadaga. Be sure you check current status before making any plans to attend for Halloween.
Historic Tours of Cassadaga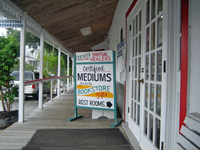 Learn about Cassadaga's unique and mysterious beginnings, its unusual architecture, and the spirit activity that still goes on within the homes of present day mediums. You will come away informed and enriched by this amazing, educational experience. Visit Colby Temple and learn about what Spiritualism really is. Then step into the Séance Room and hear how séances and other phenomena are performed and taught here at the Camp.
Be aware that this is an extremely small town with very limited services, including lodging, restaurants, etc. And although the word "Camp" appears in it's name, there are actually no camping facilities available there. Click here for more information before making any plans to visit Cassadaga.
When visiting or investigating any spooky place be sure to obey all local laws and always respect the privacy of land owners and residents. Always get advance permission to enter private property. Never trespass on, take anything from or damage anyone's private property. Always show respect!