The Austin Bat Colony - Austin, Texas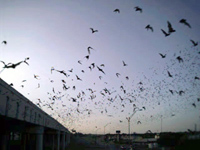 The Congress Avenue bridge in downtown Austin is the spring and summer home to as many as 1.5 million Mexican Free-Tail bats. In fact, it's the largest urban bat colony in North America.
Although the Congress Avenue bats are in residence as early as March, the best bat viewing time is in August when the young pups join their mothers in the nightly flights. It can take as long as forty-five minutes for all the bats to exit the bridge.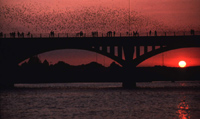 Flights normally occur around 8 to 8:30 pm but can be a bit earlier or later. Call the Bat Hotline at 512-416-5700 ext. 3636 to check on the best viewing times. The bats arrive in mid-March and return to Mexico in early November, but there are still plenty of bats that stick around for Halloween. They emerge at different times every night, but the hotter and drier the weather gets, the earlier they set out in search for food.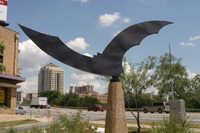 August is the best viewing month, not only because they come out before sundown, but because the newborn bats are just beginning to forage with their mothers. There are plenty of locations along Town Lake in the vicinity of Congress Avenue where you can watch the bats. If you visit the Austin Bats on Halloween night, consider dressing up in vampire costumes! Click here for more information on the Austin Bats.
Halloween in Austin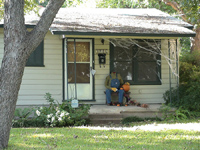 And while watching these fascinating creatures may be the main reason for visiting the capital of Texas, the Halloween fun doesn't stop there.
Austin has plenty to offer in the way of scary fair! There's always something to do including a variety of commercial haunted attractions, night club costume parties and macabre concerts. And don't forget to hit the street in costume for Trick or Treating!
Austin Ghost Tour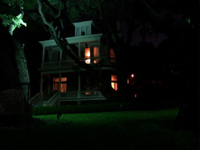 Looking for a spirited way to learn about Austin and its history? Take one of the downtown walking ghost tours! Your personal guide will enlighten you on the history of Austin, its many undead residents, and the spooky events that go on throughout all of Austin. A trip to Austin is a great addition to your Halloween adventures. Even a skeptic will see the city of Austin in a whole new light!
Looking for even more Halloween scares? San Antonio, the location of the Haunted Ghost Tracks is only eighty miles from Austin!
When visiting or investigating any spooky place be sure to obey all local laws and always respect the privacy of land owners and residents. Always get advance permission to enter private property. Never trespass on, take anything from or damage anyone's private property. Always show respect!