MAIN CONTENTS

Featured Articles
The latest Halloween articles from the staff of Halloween Online.
Halloween Costumes
Halloween Costumes, Halloween Masks and Makeup ideas.
Halloween Decorations
Halloween decorations you can make or buy for the spookiest night.
Halloween Recipes
Our cookbook filled with Halloween recipes, tasty tricks and treats.
Halloween Games
Spooky Halloween games adaptable for both kid's and adults.
Halloween Party
Halloween Party planning and ideas for your festivities.
Halloween Safety
Safety information, tips and suggestions for a safe Halloween.
101 Halloween Tips
That's right, 101 great Halloween tips, ideas and suggestions!
Halloween Props
Spooky Special Effects and Props for your Halloween haunt.
Pumpkin Carving
Pumpkin carving tips for carving your Halloween Jack O' Lanterns.
Movies & Music
Suggestions for the best Halloween music and Halloween movies.
Halloween Crafts
Halloween craft ideas and instructions for lots of Halloween fun.
High-Tech Halloween
Ghostly gadgets for your computer, cell-phone, Palm Pilot and more!
Halloween Capital of the World - Anoka, Minnesota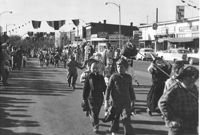 Anoka, Minnesota is believed to be the first city in the United States to put on a Halloween celebration to divert its youngsters from Halloween pranks. When residents of Anoka awoke to find their cows roaming Main Street, their windows soaped and their outhouses tipped over, they decided something had to be done.
In 1920, George Green and other Anoka civic leaders suggested the idea of a giant celebration. The idea was adopted by the Anoka Commercial Club and the Anoka Kiwanis Club; both giving their full support. In September of that year, a Halloween committee was organized. Working hand in hand were businessmen, teachers from the Anoka public and parochial schools, parents, and students. For weeks before the big event, more than a thousand Anoka school children made plans and costumes for the big event.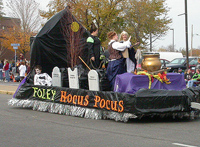 A parade was scheduled for the evening. Participants included local and neighboring bands, drum corps, the Anoka police and fire departments, the Kiwanis club, the Commercial Club, and the Anoka National Guard; all working together to make the evening a success.
Hundreds of bags of popcorn, candy, peanuts and other treats were given away to the children who marched in the parade. By the 1930s, the festivities had expanded as had the attendance at the parades. There were over 2,000 costumed children marching down Main Street. It was estimated that 20,000 spectators lined the streets to watch this night-time spectacle.
In 1937, 12-year-old, Harold Blair, donning a sweater embellished with a Halloween Capital insignia, carried with him to Washington, D.C. a proclamation naming Anoka the Halloween Capital of the World.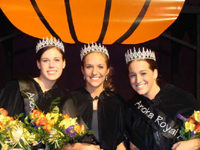 Anoka has always worked to keep a family spirit alive in its Halloween festivities. Activities have included pillow fights, a kangaroo court, fireworks displays, royalty coronations, concerts, dances, window painting contests, house decorating contests, celebrity appearances, costume contests, style shows, story-telling, races and, in the 1960s, a snake dance that took long lines of participants in and out of area businesses and homes.
Anoka's Halloween celebration continues to be world class. Participation in the night parade and Grand Day parade has grown to include units from all over the mid-west. The original concept of having costumed students parade down Main Street continues on as well on the Friday preceding the Grand Day parade. Anoka residents can watch their grandchildren or great grandchildren continue the tradition they started so many years ago. Click here for official information.
---
"How Anoka, Minnesota Became the Halloween Capital of World"
by Sharron Stockhausen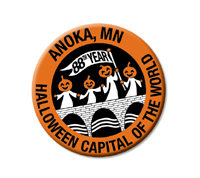 Halloween came to America in the 1840s with Scottish and lrish immigrants. Although clergy frowned on its celebration, Americans found upbeat ways to celebrate the "dark" holiday and by the1870s fancy costume parties were found everywhere.

As the holiday headed west, Halloween celebrants put wagons on roofs, stole gates, let cattle loose, and turned over outhouses whether they were occupied or not.

In 1920, Anoka businessman and civic leader George Green suggested an organized celebration to keep the young folks busy.

The Anoka Commercial and Kiwanis clubs gave him their full support and in September a committee was formed. Soon teachers. parents and students joined in. Anoka became the self-declared Halloween Capital of the World.

For the next month 1,000 Anoka students dreamed of their costumes. An evening parade featuring local and neighboring bands and drum corps was planned. After the parade, hundreds of bags of popcorn, candy, and peanuts were passed out to the marching costumed children. Everyone gathered at Bridge Square for a large bonfire and program.

Every year the celebration grew more popular, but in 1942 and 1943 it was canceled because of World War II.

By 1947 the number of marching children had almost tripled, so the parade was moved to 2 p.m. and all the children kindergarten though grade three from Anoka and neighboring towns such as Champlin, St. Francis, and Coon Rapids were included.

When I was in grade school, all students were judged at their own schools in the various costume categories. Then everyone was bussed to Franklin School to prepare for the afternoon march down Main Street. We got treats at the end of the parade.

Later that evening the parade of floats, bands, and other participants marched toward the Pumpkin Bowl football game where Anoka played someone we hoped it could beat. During half time the parade arrived and we cheered as it circled in front of the football fans.

There have been many changes since the celebration began. This is the third year for hearing our stories at Colonial Hall. I hope to see - you tonight or tomorrow.

Article from the Anoka County Shopper of Anoka, Minnesota Published October 28th, 1998.