Whether you support the war on terrorism and tyranny taking place in Iraq, Afghanistan and other parts of the world or not, we believe that it is our patriotic duty to support our service men and women where ever they are. To help keep their morale up and give them a little piece of an American holiday tradition while they are overseas, we like to send one or more soldiers a "Halloween in a Box" care package.
These care packages include a variety of Halloween related items such as Halloween candy and cookies, an assortment of simple Halloween decorations, a Halloween mask and a few other goodies. This will help them celebrate an American tradition, even if in a small way, with their fellow soldiers.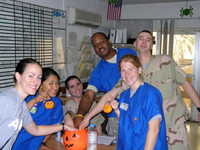 Choosing a Soldier
You can send a "Halloween in a Box" care package or gift box to a soldier that is a friend, a family member, from your hometown, or you can adopt a soldier through a variety of organizations (see Useful Information below). While we use the word soldier throughout this article, we encourage you to send "Halloween in a Box" care packages to more than one soldier if you can.
What to Send
Treats - All edibles, including Halloween candy should be in its original packaging and unopened. Take the packages of candy and place them in Zip-Lok bags for added protection. A seasonal bag of mixed candy and packaged Halloween cookies work well, too. If you send chocolate candy, double bag it in case it melts en-route. For safety reasons, avoid sending homemade treats unless you are sending the package to a soldier that knows you personally or is a family member.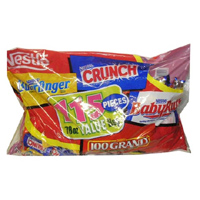 Paper Halloween decorations pack flat and are light weight. They should be light hearted and never on the gruesome side. Halloween balloons and banners. If you send a Halloween mask, make sure that it is the type that fits over the face only, and is not the over-the-head type. It is important that it can be removed quickly if necessary, after all, they are soldiers and are in a combat zone.
Lastly, include a "Happy Halloween" card with a few thoughts hand written in the card. You could also include some of your own Halloween pictures from the year before.
Here's a list of what we like to send:

Plastic Jack O' Lantern Pail
Extra Large bag(s) of Mixed Halloween Candy
On-the-face Halloween masks
"Happy Halloween" banner
Pack of Halloween balloons
Bright Colored "Silly String" (this is an important one!)
International Phone Card (so they can call their family on Halloween)
Halloween Greeting Card
Sending Your Package
Packages to overseas military units must be sent via the US Postal Service. It is important to remember that it takes more time for a package to reach a soldier who is stationed overseas than normal. Try to send our your package or packages at least a month before Halloween. Be sure to wrap packages securely. Avoid liquid-filled containers as they tend to break and/or leak. Label the package properly and make sure that you list all of its contents. There is a space on the customs form to declare whether it is a gift or merchandise.
Get Others Involved
Be sure to let your friends, family, women's groups, church and co-workers know what you are doing and encourage them to do the same.
Useful Information
Below are just a few of the groups that help to support our troops and offer more information: