MAIN CONTENTS

Featured Articles
The latest Halloween articles from the staff of Halloween Online.
Halloween Costumes
Halloween Costumes, Halloween Masks and Makeup ideas.
Halloween Decorations
Halloween decorations you can make or buy for the spookiest night.
Halloween Recipes
Our cookbook filled with Halloween recipes, tasty tricks and treats.
Halloween Games
Spooky Halloween games adaptable for both kid's and adults.
Halloween Party
Halloween Party planning and ideas for your festivities.
Halloween Safety
Safety information, tips and suggestions for a safe Halloween.
101 Halloween Tips
That's right, 101 great Halloween tips, ideas and suggestions!
Halloween Props
Spooky Special Effects and Props for your Halloween haunt.
Pumpkin Carving
Pumpkin carving tips for carving your Halloween Jack O' Lanterns.
Movies & Music
Suggestions for the best Halloween music and Halloween movies.
Halloween Crafts
Halloween craft ideas and instructions for lots of Halloween fun.
High-Tech Halloween
Ghostly gadgets for your computer, cell-phone, Palm Pilot and more!
| | | |
| --- | --- | --- |
| --- | UNIVERSAL STUDIOS HALLOWEEN HORROR NIGHTS | --- |
Halloween Online Goes To The Opening Of Universal Studios Halloween Horror Nights III 1999
We'd been waiting for this night for three months! We arrived at Universal Studios and headed towards the front gates in search of the press check-in area. Finally, we found it and located our contact, Audrey, to let her know we had arrived. We even got cute little blue wrist bands to wear!
Coming along with us for tonight's thrill ride were our photographer, Deena "Living Dead Girl" Ginn and her husband, our builder/sometime cameraman/writer Johann "Creepy" Ginn. This was their first trip to the Universal Halloween Horror nights as well as ours, we were all looking forward to the evening with great anticipation.

Things were very hectic in the outside press area, it was quite chaotic. We were ushered into the press area inside the park and allowed to get our camera equipment set up to film the Eyegore Awards ceremony. We were on the back riser with a couple of guys from E! and the Universal Studios film crew. We were having some major camera envy with all the beta cams surrounding us with their heavy duty mikes, lights, etc. but we had one thing that they didn't! A flashlight!! The E! guys used it the most.

At 7:00pm they started letting in the crowd. Fog was filing the park and you could already hear the screams begin. Suddenly we heard this loud marching and chanting coming from behind us! It was the chainsaw-welding Scare-actors coming in the park to play. We have to hand it to Universal Studios, they have some of the scariest ideas for Halloween that we've seen in a park this year. If you are looking for a true scare, this is the place to be! These guys were menacing, scary and carrying roaring chain saws. They actually used real chain saws with the chains removed! Everyone was loving it, screams could be heard echoing throughout the park all night long.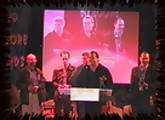 First on the nights agenda was the Eyegore Awards show. This is where Universal Studios gives awards out to those who have contributed greatly to the horror genre. Some past winners have been Alice Cooper, Clive Barker and Janet Leigh. Tonight's winners were to be Rob Zombie (multi-platinum recording artist and designer of a maze this year), Stephen Sommers (writer & director of The Mummy), Clive Barker (author & designer of a maze this year) and Lupita Tovar (star of the Hispanic version of Dracula circa 1931). Clive Barker, we found out a couple weeks before, had to fly back to England due to a family illness. As it turned out, his father passed away and our deepest sympathies are with him and his family.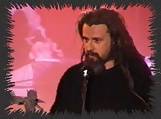 There was a small delay in the Eyegores as we all waited for Rob Zombie to arrive. Rumor had it that he had gotten lost on the 5 minute drive over from his house. Hmmm. The show finally started and was hosted by Bill Mosley (Crop Top - Texas Chainsaw Massacre 2). The first award went to Stephen Sommers (writer and director of The Mummy), who was joined on stage by some of the cast including Kevin J. O'Conner (Beni), Arnold Vosloo (Imhotep), Erick Avari (Museum Curator) and Barnard Fox (the old pilot & Dr. Bombay from the Bewitched television series). Next was Lupita Tovar who gave a nice speech on Hispanic history in cinema. Click here for the Rob Zombie part of the Eyegore Awards. (This is in mpg format. Make sure your speakers are on. Windows 95/98 - Simply left-click here and it will begin downloading, when finished media player will automatically play the file. Eyegore - 1.7 meg - 28k 9 min / 56k 4.5 min)
The biggest applause and screams came next as Rob Zombie came out to get his award. You could tell that's what the crowd was there for. He gave a very short speech, left in a roar of applause and the show ended.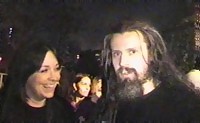 Now it was time to track down Audrey for our interview with Rob. This was no small challenge as Audrey was being pulled in twenty different directions by as many people. She had a hard time tracking Mr. Zombie down but, finally, we were able to grab him for a minute of interview time. It wasn't the private 13 questions interview we had been told we could have three months before but we were grateful for the time we did get. Click here for the interview (This is in mpg format. Make sure your speakers are on. Windows 95/98 - Simply left-click here and it will begin downloading, when finished media player will automatically play the file. Zombie Chat - 1.9 meg - 28k 10 min / 56k 5 min)
He was as nice as he could be under the circumstances. We did feel kind of bad for Rob, he was being pulled around by the arm from interview to interview and, drink in hand, he really looked like he did not want to be there. He seemed to be more interested in taking time to sign autographs for fans, which tells you a lot about him. I had always heard that he was a very nice guy and treats his fans well. I also got the impression that he does not care for the media at all. After that ordeal was over we were ready to have some REAL fun!
It was off to hit the many mazes and try and get as much in as we could since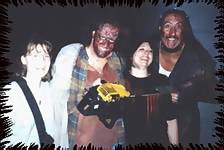 it was now 9:00pm, which left us with four hours to get through everything. First we headed over to the right side of the park to check out Clive Barker's Hell and The Cleaver's Meat Locker. The Meat Locker had a 30 minute wait as opposed to Barker's Hell at 45 minutes so we chose the Meat Locker first. These are some totally grisly mazes, we loved them. Tons of body parts, gore deluxe, it was a cannibal family meat market! This is not an attraction for little kids unless you want them to grow up as twisted as we all turned out!
Next in line, Clive Barker's Hell. That was equally entertaining. Now it was of to the nearest bathroom where Deena and I were accosted by two of the chainsaw carrying Scare-actors, they were really drawing a crowd! Posted next to the exit for the Ladies Room, they tried to scare every female coming out. One of them grabbed me, a big no-no in the haunted attraction industry, and made off with me by hiding me under his cape. It was fun, though, and I didn't mind. We all had a good laugh with these guys.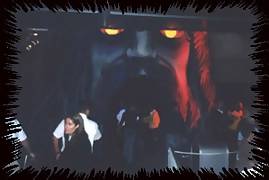 Now it's off to the other side of the park and the Thrilling, Chilling World Of Rob Zombie and The Mummy mazes. The sign said it was a 90 minute wait so we got in line and started waiting. The line did move faster than that and if you were going into The Mummy, it was even less time. We split up at this point, not wanting to spend another half hour in line since you had to get in line again to hit the other maze. Deena and Johann took The Mummy, we took Rob Zombie. One of the nice things they did for the line, videos from his latest CD, Hellbilly Deluxe were being played on monitors to keep us all happy. After entering through his mouth (you go in through a giant Rob Zombie head) we went deeper into his maze. It was a cool maze, more gore, a zombie go-go-girl, a Rob Zombie look-alike in his stage costume. Or was it? Rumors ran that it really was Rob Zombie. We'll never know and nor did we care by that time.
The Mummy used props from the film, lots of sand on the floor, giving you the impression that you were in the tombs. Last on our list was Classic Creature Features which was done up like a dusty, old, abandoned castle, falling prey to the terror of Universal's most merciless celluloid slashers and fiends - Frankenstein, the Wolf Man, Phantom of the Opera, the Mummy, Dracula, Creature from the Black Lagoon - all chillingly revived.
Also opened were the main rides, like Back To The Future, Jurassic Park, Terminator 2 3D and others. There were also some of the stage shows that had been Halloween themed going on like the Carnival of Carnage, a Jim Rose type stage show and the Animal House of Horrors with the animal actors in Halloween costume.
We finally crawled out of the park and back to our car at 12:30am, heading for home. The rides weren't quite over for the night though. Just five minutes after we got home, we were hit with a 7.0 earth quake. Living about 50 miles from the epicenter as the crow files, we got quite a ride. It was fitting end to a perfect night. We like earth quakes...... what can I say? We, here at Halloween Online, are a sick and twisted bunch. All I could think about was how those bags full of human parts hanging from the ceilings in almost every maze at Universal Studios must have been swinging like crazy!
article by Dawn de LaMorte'