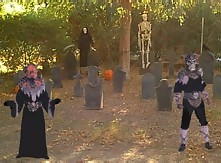 Scareactor, what's a Scareactor you ask? Just what it sounds like, it's an actor who's job is to scare people. While the original source for the term Scare Actor will probably never be known, many have made claims to it. We do know that it began in the haunted attraction industry as a name for the actors who wandered around scaring customers. For us, it simply means people who are part of our Halloween home-haunt who scare our visitors. Once night falls, the Scareactors being lurking around the haunt. You may have some killer props that make your haunt fantastic but Scareactors add an extra punch to your haunt!
Production Planning
The most important element for success is planning. You have to look at your Halloween haunt as a sort of play and you're the producer and director. Your yard haunt is your stage. You'll have props, lighting and actors, in this case "Scare-Actors".
Casting your Scareactors
It's important to only cast people that have a temperament for it and who will follow your directions and the rules. So, who will your Scareactors be? Just about anyone you know who loves Halloween and wants to part of your spooky production including your family, friends, relatives and neighbors. Anyone who finds delight in adding to the Halloween happiness of others!
Directing Scare Actors
It's good to have some kind of theme for your haunt. A mad scientists lab, a ghoulish graveyard, a vampires lair. What ever you come up with, make a production of it. You could even write a script for your Scareactors. Make sure they all know what to do and what part they will play in your haunt.
Training & Rehearsing
We like to run a dress rehearsal the weekend before Halloween to work out all the kinks. This will make things run much smoother on Halloween night. This is a great time to have a post rehearsal Halloween party for the cast and crew as well.
Makeup & Wardrobe
All Scareactors should arrival at least two hours before the start time for makeup and wardrobe. Make costumes from old clothes or go all out and buy costumes and masks, it's up to you. Ask your Scareactors if they have costumes of their own they might want to wear. Halloween type make-up and facial appliances are plentiful at this time of year. You can find inexpensive Halloween make-up kits just about anywhere.
Placement
Each Scareactor should have a zone of operation. Some might stand guard at the entrance to the haunt beckoning visitors in, others might be roaming the graveyard or acting out scenes. Some of the places we've stationed Scareactors in the past: Demon guards at the entrance to the haunt, Zombies in shallow graves in the graveyard, the Grim Reaper wandering in the graveyard, a giant Pumpkin King in the pumpkin patch.
Tips for Scare Actors
Take short breathers when there are few or no victims, I mean visitors, present. This is especially helpful if you are wearing a mask or a heavy costume. The host should make sure to have plenty of cold drinks on hand and snacks to keep your energy up.
Rules for Scare Actors
Never, ever actually touch anyone. This may sound like it takes some of the fun out of scaring someone, but it avoids really big liability issues. Theme parks do not allow their Scaractors to come in direct physical contact with customers although some break the rules and do it anyway. But please, don't handle the victims!
Don't take abuse, physical or otherwise from anyone. If a visitor grabs or punches you let your host/director know right away. That person should be made to leave the haunt immediately.
Don't scare someone to the point of hysteria. We've actually seen people scared to the point of running into walls, fences, etc. and hurting themselves.
Scare Tactics for Scare Actors
During our many visits to haunted attractions we've learned lots of scare tactics. One of my best was sneaking up behind people and rattling a can of rocks. It's simple but works great. Some of the best commercial haunts use this trick with much success. Some other techniques are scraping a trash can lid across the ground, rattling chains or generally moaning like a ghost. Placing a person in a dark costume in a dark corner works well if you can get the focus of the patron just past the Scaractor. They can't be seen until the visitor is right on them, allowing them to jump out at the guests. Another good trick is to use human statues. Have them stand perfectly still until the visitor is in front of them, then they can move slightly. Was it a trick of the eye or is that statue alive?
Care and Feeding of Scareactors
Make sure you feed your Scareactors well before your haunt begins, and encourage frequent refreshment breaks. Supply plenty of cold drinks and energy food to keep them going. Have them take breaks when there is a lull in visitors. Costumes can get hot and you don't want anyone fainting for real!
The most important thing..... Have Fun!