| | | |
| --- | --- | --- |
| --- | A TRIP TO KNOTT'S SCARY FARM | --- |
The day had finally arrived!! We were heading to Buena Park, California to interview Elvira, Mistress of the Dark and also take a look at this years Knott's Scary Farm. Let me start off by saying that if you have never gone to Knott's when they do their annual Halloween Haunt, beg, borrow or steal your way there! You'll have the most wonderful time of your life!!
We arrived at Knott's and went to the information desk where we were greeted by Erin and Dana, two of the marketing people at Knott's. Erin was to be our escort for the afternoon and evening. She was great, she took wonderful care of us.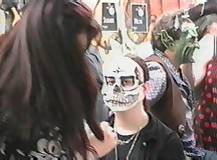 We started off in the back lot warehouse were we could see the monsters being made up for the up-coming evening. They hire about a thousand people to work each night during the 17 nights of the Halloween Haunt. It was very interesting to watch all the make-up artists getting the ghouls ready for a night of scaring people. Facial appliances, air brushing, cuts, bruises, scares, bolts and hooks through the head, they do it all here.
Next, we took a look at the costume department which is in the same building. What a selection of costumes they have for any creature you can imagine!! We had to hand it to the seasonal staff of "creatures", it was a hot day for this time of year yet everyone still seemed in high spirits, even wearing some of the heavy costumes that are required to wear each night hours before they had to.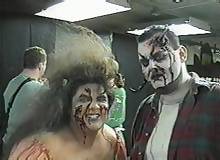 Night started to fall, the sun thankfully set and the park had been cleared until they re-opened at 7:00pm for the Halloween Haunt. One question we had was how do they set everything up so fast since the park closes at 5:30pm and re-opens an hour and a half later. We found out that all the special mazes are set up full time at this time of year, they just aren't open to the public during the daytime.
At 6:30 we decided to start exploring the Halloween Haunt. They were already allowing some people into the park, those who had bought the special dinner tickets and other special guests were allowed in an hour earlier than general ticket holders. Outside the main gates there was literally a sea of people being held back by ropes that looked ready to burst. We were glad that we were already in the park and had a head start!
Fog machines were running all over the place, pouring out thick curtains of fog. You could barley see in front of you, it gave a very spooky ambience to the Ghost Town section that greats you as you enter the park. Knott's uses about 300 fog machines on timers through out the park. They run all night long although some areas just don't get that foggy because of air flow and movement of people. The Ghost Town area is almost always covered.
We were free to roam the Halloween Haunt until our midnight interview with Elvira so we decided to hit the mazes!! We hadn't been to Knott's Scary Farm in a couple years so we were raring to go. Pulling out the trusty Knott's Halloween Haunt map, we charted our course for the night. They set up a wide variety of mazes every year, try to hit them all if you can.
Most of the regular rides like the Ghostrider coaster, Supreme Scream, Jaguar are still open as well as many stage shows going on during the night like Ed Alonzo's Magic and Mayhem, The Hanging starring The Crypt Keeper, Tony Angelo - The Haunted Hypnotist. Also the walk way from what is Camp Snoopy in the daytime, turns into The Gauntlet - Festival of Freaks.
Starting out just past Ghost Town, we entered Horrorworld Hotel. This maze is full of famous movie monsters such as Freddy, Jason, old monsters as well as new. The Scream room was exceptional.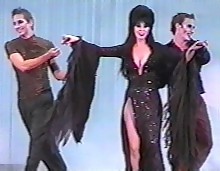 From there we headed off to Elvira's Nightmare where the mistress of the dark welcomes you through her maze, well, a very cool illusion of her does. We enjoyed this maze very much. To entertain us while we were all in line, a stack of monitors had been set up to show last years Elvira stage show.
Then it was off to Dominion of the Dead, a world of seductive Gothic terror that will entice you to stay. This one has always been one of our favorites along with The Underground, my personal favorite. The Underground is an industrial nightmare with zombie girl go-go dancers, very loud industrial music blaring everywhere and ghouls walking around that look like they came out of Beyond Thunderdome. It's very cool, I highly recommend this one.
We took a break at the 50's style dinner and had great cheese burgers, fries and vanilla shakes. That energized us for the rest of the night. One of the nice things about Knott's, the lines are long for mazes but they always move fast. We were able to hit all but two mazes during the night.
Next it was off to Alien Attack!. We hadn't seen his one before, it was pretty good and it had an "ice room", frozen to keep the human test subjects fresh. It was so nice and cool in there, it was a nice change from the still hot air outside. It has been unseasonably hot and humid in the Los Angeles area the past week which made for a sticky night.
We then headed off to go through Bigfoot's Revenge, Deadman's Warf and The Underworld Unearthed, Camp Gonnagetcha and The Cryptkeepers Tales From The Inquisition. No one can do the Inquisition quite like the Cryptkeeper.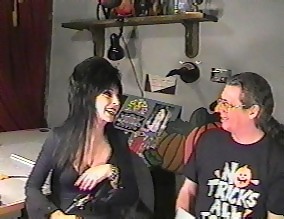 At 10:30, we met up with Erin and she ushered us over to the auditorium to set up the camera for the Elvira's Ghost Stories Revue. We met up with Jeff, the stage manager, who set us in a prime location for filming. We were allowed to film ten minutes of the show. It got started at 11:15pm and Elvira was off and running. The show was great, Elvira was very funny. The dancers, band and singers were wonderful. The show runs a half hour and is worth your wait in line.
After the show, Jeff and Erin ushered us backstage and into a room for the interview.. Elvira came, she had changed from her stage costume to her trademark dress. I have to say that she is a very sweet, friendly person, and as you would imagine, joked with us and we were very at ease. We picked a room, got set up and did the interview with her which can be seen here. Then she went to do her last show of the night at 12:45am. Elvira has more energy than I can imagine having, she puts on a strenuous show twice a night not to mention late into the night and still looks fantastic. She was very gracious and we were most honored to meet her.
Happy and tired, we headed back home. We want to thank Bob Ochsner, Erin, Dana, Jeff, Elvira, Mark Pierson and the rest of the staff at Knott's Scary Farm for all their help in setting this night up for us. We'll definitely be back again next year!!
article by Dawn de LaMorte'