MAIN CONTENTS

Featured Articles
The latest Halloween articles from the staff of Halloween Online.
Halloween Costumes
Halloween Costumes, Halloween Masks and Makeup ideas.
Halloween Decorations
Halloween decorations you can make or buy for the spookiest night.
Halloween Recipes
Our cookbook filled with Halloween recipes, tasty tricks and treats.
Halloween Games
Spooky Halloween games adaptable for both kid's and adults.
Halloween Party
Halloween Party planning and ideas for your festivities.
Halloween Safety
Safety information, tips and suggestions for a safe Halloween.
101 Halloween Tips
That's right, 101 great Halloween tips, ideas and suggestions!
Halloween Props
Spooky Special Effects and Props for your Halloween haunt.
Pumpkin Carving
Pumpkin carving tips for carving your Halloween Jack O' Lanterns.
Movies & Music
Suggestions for the best Halloween music and Halloween movies.
Halloween Crafts
Halloween craft ideas and instructions for lots of Halloween fun.
High-Tech Halloween
Ghostly gadgets for your computer, cell-phone, Palm Pilot and more!
| | | |
| --- | --- | --- |
| --- | HALLOWEEN SCENTS BY GOTH ROSARY | --- |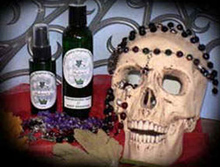 Years ago, while searching the 'net for unusual perfume fragrances to put us in a Halloween mood, we came across AntiSally and her site, GothRosary.com. Her slogan was, and still is "Uncommon Scents For Uncommon People". What we found there was a graveyard full of fragrances to thrill our senses, bring back forgotten memories of our youth and the best part, they put us in the Halloween mood all year long!
Goth Rosary has the most original line of fragrances that we have found. Her product line has now been extended to: Worry Free™ Hand Sanitizer, Incense, Scent Samples Pack, Roll-On Perfume Oils, Fragrance Mini Mists, Body & Room Mists, Hair & Body Washes, 24 Hour Deodorant Spray, Face & Body Lotions, Hair Conditioners, Hot Oil Hair Treatments, Sugar Scrubs, Dead Sea Salt Scrubs, 2 in 1 Massage & Bath Oils, Solid Perfumes, Liquid Perfumes, and The New Disgusting Smells Line. All products are naturally made, and are not tested on animals.
Fragrance products are hypoallergenic, biodegradable, the body wash has a base containing vitamin E so it's great for your skin and the packaging is recyclable! Complete ingredient listing is available on her site. She uses only the best oils and essences to create her perfumes, soaps, shampoos, body washes and other products. Her products also include custom made Goth rosaries that go great with costumes and look wonderful for everyday wear to keep you in the Halloween mood all year long!
Our main focus is on AntiSally's line of fragrance mists. They now also come in small sizes which are perfect "try out" sizes or for people like me that own so many different types of fragrance that you'll never use them all up in your life time.
You'll find fragrances you never knew existed and believe us, once you smell them, you'll have to have them! New scents have been added over the years along with new products all using the same scent lines.
We highly recommend the "Heathen" fragrance to get you into that Halloween-Gothy mood! The ordering was no hassle at all, you can do PayPal, credit card, money order or personal check. Orders are shipped quickly and arrive even faster! If you have a problem, let AntiSally know and she'll take care of you.
OUR FAVORITE FRAGRANCE LIST:
Heathen™ - The smell of cannabis, patchouli & sandalwood incense
Graveyard™- The smell of loamy soil, fresh green grass with a note of floral
Mayhem™ - The smell of smoke mixed with woods & spice
Crypt™ - The smell of moss clinging to a marble Mausoleum
Sahain™ - The smell of Halloween candy, changing leaves & Autumn spices
Funeral Flowers™ - A profusion of blossoms and calming vanilla
Vexing™ - Crisp clean meets fruity floral and exotic incense and spices.
Nocturnal™ - The smell of clove mixed with patchouli & nag champa
Shadows™ - The smell of musk and other incense of darkness
Can't Wait Demeter™ - Ripe pomegranate and harvest scents
Black Wings™ - Ebony amber air stirred with musk tinged by clove
Wicked™ - The smell of supple black leather & tobacco
Gothic Rose™ - The smell of unfurled deep crimson petals
Dead On Chocolate™ - Deep rich dark chocolate
Vanilla Hell™ - Toasted to a nice brown...Enjoy Vanilla's quick trip to Hell
Seasons Greedings™ - Pines, fruits and sweets.

She also makes fantastic rosary bracelets and my favorite one is still the Type AB Negative rosary bead bracelet design made with skull beads with a spider connector, one of which she recently made for me. It's beautiful and since I more or less dress for Halloween all year long, I may never take it off! It's pictured at the left.
She also makes full length Rosaries as well as rosary based bracelets and chokers. She'll custom make them for you, using skull, bats, spiders or whatever beads you choose from her vast assortment..
With this vast assortment of quality products, you can be sure to find something to liven up your Autumn nights and keep that Halloween mood going all year long! Stop by GothRosary.com and take a look! Her products are very reasonably priced so you'll be able to afford more than one perfume. Like life wasn't hard enough, now you have to choose from this vast assortment of original fragrances! Good luck!