MAIN CONTENTS

Featured Articles
The latest Halloween articles from the staff of Halloween Online.
Halloween Costumes
Halloween Costumes, Halloween Masks and Makeup ideas.
Halloween Decorations
Halloween decorations you can make or buy for the spookiest night.
Halloween Recipes
Our cookbook filled with Halloween recipes, tasty tricks and treats.
Halloween Games
Spooky Halloween games adaptable for both kid's and adults.
Halloween Party
Halloween Party planning and ideas for your festivities.
Halloween Safety
Safety information, tips and suggestions for a safe Halloween.
101 Halloween Tips
That's right, 101 great Halloween tips, ideas and suggestions!
Halloween Props
Spooky Special Effects and Props for your Halloween haunt.
Pumpkin Carving
Pumpkin carving tips for carving your Halloween Jack O' Lanterns.
Movies & Music
Suggestions for the best Halloween music and Halloween movies.
Halloween Crafts
Halloween craft ideas and instructions for lots of Halloween fun.
High-Tech Halloween
Ghostly gadgets for your computer, cell-phone, Palm Pilot and more!
| | | |
| --- | --- | --- |
| --- | HALLOWEEN MUSIC SOUND SYSTEMS | --- |
The Halloween Online Ultimate Sound System
If you haven't noticed, we like to super-size things here at Halloween Online. To play our Halloween music and sound effects we put together an ultimate 800watt sound system for our Halloween Haunt and for playing music at our Halloween party.
Computer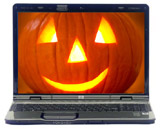 Either a laptop or desktop computer can be used, but we usually use a laptop for its portability. Its important that which ever type of computer you use that it has a high quality sound card installed to produce the best sounding music. Just load on all of your favorite Halloween music MP3's and install music DJ software such as "Traktor DJ Studio" and you are all set.
Gemini XTR-400 Speakers Packages (2)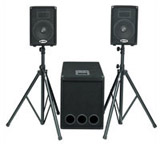 We really wanted to produce high volume and clear audio, so we chose the Gemini brand XTR-400 sound systems. Each of the "Gemini XTR-400 Complete Powered Speaker Systems" include two GT-1002 ten inch, 85watt loudspeakers and one massive fifteen inch, 230watt powered subwoofer, for total of 400watts on each system.
We use one of these great sound systems to play our Halloween music from and the other for producing the deep, resounding sound of thunder in combination with our "Lightning Machine".
A system like this takes lots of high quality audio cables. We use "Monster" and "Hosa" brand cables to connect our sound system together. If you put together a high-end audio system, don't skimp on the cost of good audio cables.
Behringer Eurorack UB802 Mixers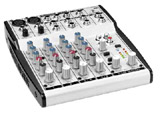 The UB802 features 2 invisible Mic Preamps (IMPs), 6 balanced high-headroom line inputs, 1 post fader FX send per channel for external FX devices and 1 stereo aux return for FX applications or as separate stereo input. There is also an effective, extremely musical 3-band EQ on all channels. The UB802 is well-suited for use with computer applications