Below are the top thirteen events that we believe were important to Halloween in the Twentieth century.
"Halloween Capital of the World"

In 1920, Anoka, Minnesota civic leaders suggest the idea of a town wide Halloween celebration, including a Halloween parade to stem the tide of pranks. Bags of popcorn, candy, peanuts and other treats were given away to the children who had marched in the parade.
Halloween celebrations have been held in Anoka every year since 1920, with the exception of 1942 and 1943. In 1937, Anoka proclaimed its self the Halloween Capital of the World.
"Wilton Enterprises"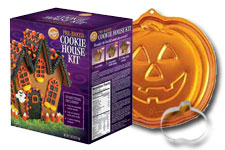 Since 1929, Wilton has offered the very best selection of baking, cake decorating, candy making and cookie making ingredients, accessories and tools for creating wonderful looking and tasting Halloween treats.
In addition to their great product line, Wilton also offers seasonal classes and publications that can help just about anyone to create holiday desserts and serve them with a spooky flair.
"War of the Worlds"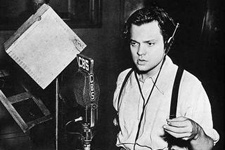 On October 30, 1938, Mercury Theatre radio aired their Halloween special, an adaptation of the H. G. Wells book "War of the Worlds" , hosted by Orson Welles'. Beginning at 8:00pm, millions of listeners were shocked when radio news alerts announced the invasion of Martians, initially landing in Grovers Mill, New Jersey.
Many listeners believed what they were hearing was the real thing and some people even panicked.
"Peeps"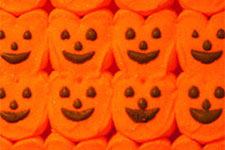 Since 1952, Peeps, those sweet little marshmallow candies have been a holiday favorite and tradition. Halloween Peeps include bats, cats, pumpkins, and ghosts.
Although the original Peeps were standard marshmallow flavor, some of the newer flavors including cocoa for the Halloween cats and bats. The basic ingredients for Peeps is marshmallow, sugar, gelatin, and carnauba wax.
"Vampira"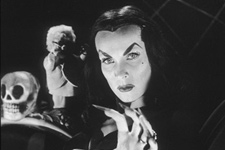 In 1954, Vampira became the first horror show host on television. From 1954-1955, the show was broadcast on the Los Angeles based television station KABC-TV.
The Vampira Show televised mostly low budget suspense films and set the stage for a multitude of hosted horror shows. Portrayed by actress Maila Nurmi, who's television persona was inspired by Charles Addams "Morticia Addams" character.
"It's The Great Pumpkin Charlie Brown!"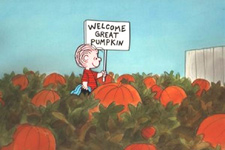 In 1966, children were thrilled by this twenty-five minute long animated Halloween special based on the Charles Shultz "Peanuts" comic strip characters. How can you get into the Halloween spirit without watching this one?
It's a definite classic for young and old alike, with Linus is waiting for the Great Pumpkin while those around him trick or treat. Will he be rewarded for his vigilance or left out in the cold once?
"Halloween - The Original"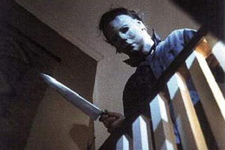 In 1978, the classic horror movie "Halloween" was released into theaters and became the highest-grossing independent movie ever made at that time.
Due to its meager budget of only $300,000.00, the prop department used the cheapest mask that they could find, a Captain Kirk (William Shatner) mask. They spray-painted the face white, teased out the hair, and reshaped the eye holes to give it a more sinister appearance.
"Elvira, Mistress of the Dark"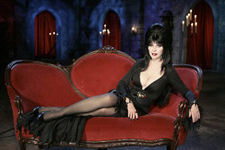 In 1981, Cassandra Peterson was hired by KHJ-TV in Los Angeles as hostess for their "Movie Macabre" television program that featured low budget horror movies.
She developed the "Elvira" character with make-up artist and costume designer Robert Redding. In 1982, "Movie Macabre" received an Emmy award nomination and the show goes into nationwide syndication. Elvira is considered to be the "Queen of Halloween".
"Pumpkin Masters"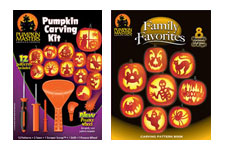 In 1987, Paul Bardeen invents and markets the first pumpkin carving tools and templates kit allowing the creation of intricate, decorative Jack O' Lantern designs.
The tradition of carving pumpkins has never been the same since the introduction of Pumpkin Masters' pumpkin carving kit. New pumpkin carving templates were added almost every year, allowing people to make new and even more elaborate carvings every Halloween.
"The Simpsons - Treehouse of Horror"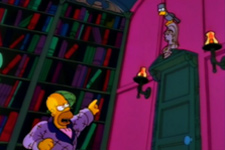 In 1990, The Fox Television Network airs a "Simpsons" Halloween special called, the "Treehouse of Horror". The Simpson's Halloween special has become a annual tradition on the animated television series and are much anticipated by its fans.
Every Halloween episode contain three independent segments, each featuring a different spooky storyline. Unfortunately, Fox has not released the full collection onto DVD.
"Halloween Online"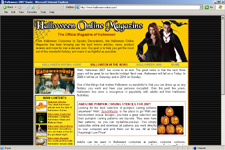 In 1994, Halloween Online, went online October 31st. as a dedicated Halloween magazine.
It did not have its own domain name (halloween-online.com) until June 1998, when it was launched as a full featured, free standing Halloween website. Today, it is the Internet's largest and oldest content driven Halloween site, and flagship of the Halloween Online Family of Websites.
"The Haunted History of Halloween"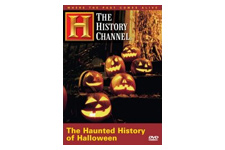 In 1997, the History Channel aired this well researched, detailed and unbiased Halloween documentary hosted by Harry Smith.
The show takes us through a three-thousand year journey of the pagan holiday, which has become one of America's most popular holidays. Available on DVD, it is simply a must have for anyone who loves Halloween and wants to learn more about its ancient history.
"Martha Stewart"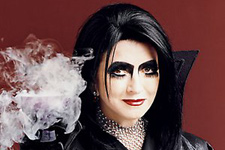 In 1999, the first "Martha Stewart's Halloween Special: Bad Things, Good Things", aired on cable television. This episode demonstrated Martha's love for the spooky holiday, and featured a variety of simple how-to Halloween decorating tips and craft related projects.
Her popular magazine, "Martha Stewart Living", has also had several special Halloween issues printed over the years.